Closing ceremony
6º Open Blitz Arenal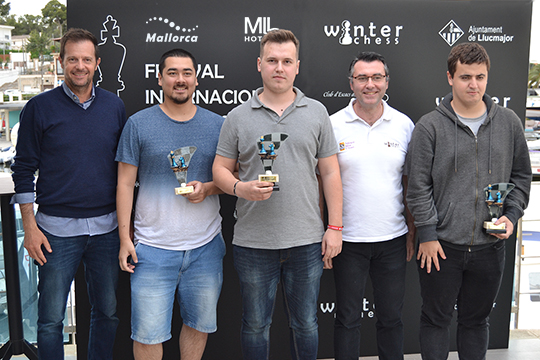 The Ukrainian Vitaliy Bernadiski, clear winner of the Arenal Blitz.
It finishes one of the editions with greater participation of the tournament Blitz of Arenal, where nearly 70 players have been given an appointment for this tournament that begins the International Festival of Chess of Llucmajor.
A representation of 15 countries where we find 17 FIDE titled masters, of which 9 with the title of Grandmaster, have played a total of 9 games at the rate of 3 ' + 2 ' ', where the player of Ukraine Vitaliy Bernadiski, which was the head of serious number 4 of the tournament , it has been proclaimed winner of the chess tournaent with 8 points of the 9 possible, having inclined its king, only in front of the Danish player Rasmussen, in the fourth round.
On the other hand the second place was for the Spaniard Jaime Santos, who was only defeated by the winner of the tournament, in addition to yielding 2 tables Ente Rasmussen and Naumkin, Mirntras that the podium completes the Brazilian Alexandr Fier, in third place, also with 7 Points after tying with the English fat and Ukrainian promets, and yielding to Santos..
This tournament is part of the WinterChess program, Mallorca Chess and tourism, sponsored by the Fundació Mallorca I Turisme in addition to the Ajuntament de Llucmajor and the hotel chain MLL hotels, whose objective is to promote sport and tourism through chess.
Juan Oliver, president of the club chess of Llucmajor and the international organizer Sebastià Nadal, director of the tournament, presented the awards.